Rethinking mortgage lead capture and nurturing
Every loan officer's goal is to build a strong pipeline of leads through the sales funnel to be able to close a target number of loans every month. The industry is loaded with information on how to go about generating leads and nurturing them, but a huge opportunity is totally missed out by lenders when it comes to building lasting relationships with their customers.
The loan officer must transform from a money lender to a trusted advisor for real estate financing choices.
Instead of pursuing the traditional models of lead generation and nurturing which creates a lot of noise, loan origination teams should focus on continuous buyer engagement to build long lasting relationships. The loan officer must transform from a money lender to a trusted advisor for real estate financing choices.
This article explains this opportunity and provides a real solution that loan officers can execute today to change the status quo and start growing their business immediately and sustain it for the long-term.
Current Lead Generation Approaches
Some of the common methods loan officers employ to achieve these lead generation goals are:
Buy leads from a mortgage lead source, hoping that it is a dependable and trustworthy source.

Build referral partner relationships with real estate agents, insurance agents, attorneys, etc.

Build their own websites and drive traffic to them by using expert advice or unique content to attract visitors

Getting listed in local business directories and working on reviews both online and via other media such as radio or TV

Social media marketing that tries to bring together all of the above – offers, website content, partner posts, and reviews from happy customers.
While many of the above practices were the main staple for building a customer pipeline, a few new outbound marketing capabilities have emerged in recent years driven by data and insights. A couple of these that stand out are:
Client Portfolio Monitoring to identify mortgage opportunities. We've written about

how portfolio monitoring can power new mortgage opportunities

.

Home Value and Financial monitoring for homeowners. Players such as Homebot are providing a quick read out to homeowners on their current financial status in their home and recommending actions.
Understanding Client needs for better Lead Nurturing
In addition to lead generation the loan officer should also nurture those leads to progress them along the funnel. Lead nurturing is a process of building a relationship with the prospect and establishing trust with information, insight, and advice the customer actually values. But most lead nurturing advice you will receive from marketing experts focus marketing automation to just keep doing more of the lead capturing tactics:
Automate drip email campaigns

Automate more content delivery

Automate property valuation emails such as in Homebot
The best one (or the most infamous one) is the "Happy Birthday" emails. I am sure many loan officers fire off happy birthday emails to their past clients. I receive the same funny email every year from my loan officer that it is not that funny any more.
It is important to think like a homebuyer or a homeowner and to actually provide value by helping them every step of the way to engage and retain those relationships. To do this effectively begin by understanding the home buyers goal which we see as one of the below:
Buying a primary home

Buying a second or investment property
In the rest of this article, we will explain the opportunity in the investor market and how to engage and nurture those relationships. In a subsequent article we will address how you can deliver value to primary home buyers and build lasting relationships.
Loan Officer's Opportunity in the Real Estate Investment Market
Here are some facts in the real estate investment market:
The largest investor segment is the landlords who want supplemental rental income and not the Fix-n-Flip investors

Most of the real estate investment forums, online training classes, and advertising revolves around the fix-n-flip investors who make a small percentage of the investment marketplace. The regular rental income investors get little to no advice from their real estate agent or their financial advisors on how to invest and manage their rental properties.
The rental market is growing rapidly driven by


millennials with student debt
job losses from COVID-19
Gen Z entering the job market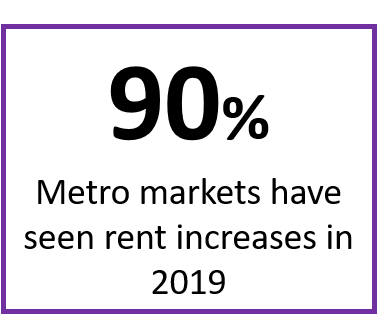 A large number of stock market investors have been expanding their portfolios to include direct real estate investments that they manage. No, we are not talking about investments in REITS or pooled real estate investments, but direct buy and hold of rental properties.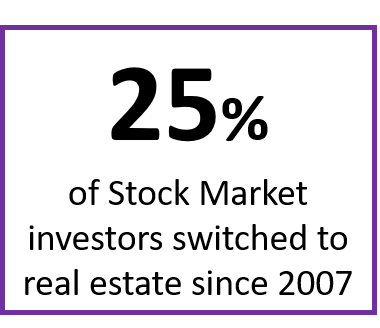 Stock market investors are expanding their portfolios to include direct real estate investments

Services such as AirBnb and Home Exchange are also driving new income opportunities for homeowners and hence the homebuying criteria have been undergoing a massive shift in the recent years.

How does an Income Investor make home buying decisions?
Income investors in real estate need various services and tools to help them:
Find properties that provide the best return on investment – Rent Value and Cap Rates

Find properties based on absentee ownership, mortgage LTVs, distress activity, cash-on-cash returns, etc.

Analyze their investments – rent forecasts, income and expense forecasts, tax deductions, etc.

Local market trends and intel – inventory trends, price trends, upcoming zoning changes, new construction, etc.

Funding assistance – the best financing model for their investment based on their current real estate portfolio

Renting assistance – ability to list rentals, perform tenant screening, and lease the property.

Renovation & Maintenance assistance – access to reliable service providers, property managers, handyman services, etc.
As you can see the first 4 items in that list above are tools that an investor needs to make important investment decisions so that a loan officer can help them with funding assistance and then connect them with a network of service providers to continue to help them.
There are a few paid online services on the market such as PropStream and REIPro that provide tools for investors to conduct their research and the fees for such services are in the range of $75 – $100 per month. These tools are targeted at the Fix-n-Flip investors who are ready to spend and maintain such subscriptions for their primary business and income. 
But such services do not address the need for the income investors who buy a property every few years but would also like to keep an eye on the market between their transactions. Online IDX portals such as Zillow, Redfin, or other real estate broker portals do not serve investors and hence do not provide the in-depth insights that an investor needs.
As a result, most income investors do not get the required information or advice to make their decisions. A few savvy investors do use spreadsheets to analyze properties and compare them with the minimal information they obtain from sources such as Zillow or Redfin.
How can a loan officer help income investors with their next investment?
It is time for the loan officers to become the trusted advisor for the investors' funding needs based on their overall portfolio of real estate investments. 
Prospektr provides the necessary tools for income investors to research their markets, including:
For sale properties – listings directly from the local Multiple Listing Service (MLS)

Public record assessment data on every property – taxes information

Absentee Ownership, Ownership Duration, Mailing Addresses for current owners

Mortgage data on every property to understand the LTV and owner's equity – a key for price negotiations

What-If-I-Invest analysis on any property with 30-year financial projections
The loan officer can offer such an online investment research service for free to their potential investor prospects. Within Prospektr you can:
Run a campaign to invite your prospects or past clients to join Prospektr for free

As the investors perform their research, you can understand their investment targets and help them with their mortgage needs.

Connect the investor with partner real estate agents for negotiation and deal closing

Connect the investor with other service providers for post purchase management of the property
If you are a loan officer trying to attract and retain investor relationships, contact Prospektr to get started. Learn more here.
Prospektr is powered by the same underlying platform that is trusted by appraisers, mortgage underwriters, and credit bureaus for their decision making.